After MarocBaba and I were engaged we took a trip for a few days to Essaouira, a few hours from Marrakech, to spend some time together. When we went to Morocco this past fall we went to Essaouira again. It was almost 7 years from our first visit. We never took a honeymoon and the vacation to Morocco was the first time we both were away from the kids for longer than a week. The whole trip was special for us but going back to Essaouira was something we both really looked forward to.
In late November I wrote a post about a wonderful lunch we had in the port. On our first visit we skipped out on a lot of the activities related to fishing due to my aversion to all things seafood. This time however we were fully immersed. Generally in Morocco I try to blend in and not seem like the foreigner. I want to be a part of the culture and experience it from the inside. But being in the port I gave up. I carried my camera on my neck and looked around soaking up the experience. We saw very few tourists and many locals purchasing fish and seafood off of the boats. One scenario that unfolded was this;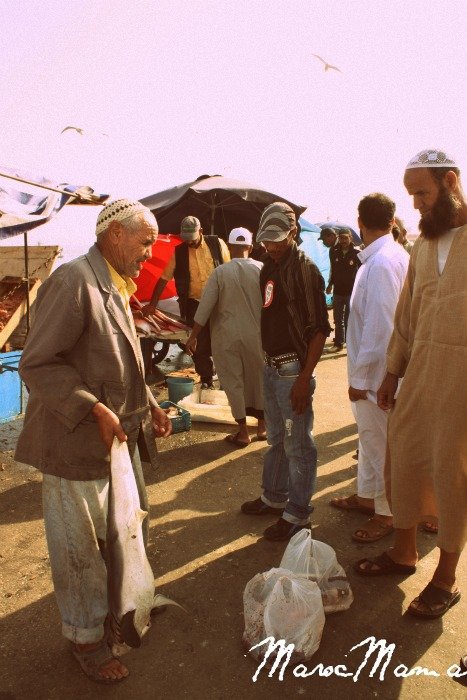 Can you guess what he's holding?

Just as we were buying some shrimp I turned around and almost bumped into this man. He had just returned from a morning in the water. The day was very overcast and most fishermen were not going out because of high waves. However, this veteran of the sea had gone out. Before I could see what he was holding I saw his face, well worn with the wind of the sea, browned by the Moroccan sun. His eyes were deep having looked into the waves, across the horizon for many many years. It seemed, as is the case with many older gentlemen, a tear remained continually in the crease of his eye. He was a man who had felt life the width and breadth of it. And he was here to make a deal.
My eyes followed his arm and saw in his hand he grasped the tail of a ….shark. It was my first time seeing a dead shark. I let out an audible gasp realizing he had actually caught that..thing. It hadn't crossed my mind that sharks might inhabit the waters but why wouldn't they? Most likely he had gone out alone in a boat and brought in this haul, just enough to get a meal on the table and care for his family. Mskin. A small bull shark (I believe) that brought a crowd of people almost immediately. I don't know the first thing about cooking a shark and have never come across shark in Moroccan recipes.
As in most transactions the price was high (not as high as I thought it might be) and many men chimed in to offer their best price. But the man was firm in his price. Secretly I was hoping he'd go higher. This was quite a catch – I wanted him to go home with a hefty wallet. We listened as the numbers flew. Mia, Mia arbain, higher and higher. Finally it was sold. 170 dirham…about $20. For a whole shark. Mabrook sidi, mabrook.

That's how you buy a shark in Morocco!
Be a part of the MarocMama family!
Sign up for our newsletter today.
You'll get a weekly update + features that won't be on the blog!