Anyone that has been to Geiranger knows this title is an intentional joke. Situated at the end of the one Norway's iconic fjords, this teeny-tiny town boasts only a few handfuls of year-round residents. Only one road goes into and out of town (and most of the buildings and homes along this strip) making it impossible to get lost. Our cruise ship was the first one docking here for the summer season, and several of the activities and excursions typically available weren't yet available. With little to do in town it was time to find something to occupy our time in port.
Browsing the ship shore excursions I found (not surprisingly) that everything was insanely priced. Instead of sucking it up and taking the financial hit I researched the activities that looked the most interesting and if it was possible to book independently. Not surprisingly it was much cheaper to book this way. My first choice was a downhill electric bicycle tour but there were no more bikes available. My second choice was an electric car rental. We had seen these in Mallorca on our Mediterranean cruise but didn't have time to rent them. So this was our chance!
The office was very easy to find after getting off the ship. It wasn't more than 100 meters from the cruise port and there were plenty of little cars waiting outside. At first I wasn't sure how we'd fit inside the car. They were small! I crammed in the backseat along with our backpack while MarocBaba took the drivers seat. For anyone that is larger than an average size this could be a very uncomfortable ride. I'd probably suggest just putting one person per vehicle.
Within 10 minutes we had been given an overview of how the car and GPS worked, basic directions and were cut loose. The hills surrounding Geiranger are steep – very steep and I was surprised at how easily the car made it up. The automated GPS told us a bit about where we were, pointing out good places for pictures. We shut off the car at one point and went to take in the view. We were on the hunt for a famous farmhouse that has great Norwegian waffles – but we had no clue which way it was and of course we hadn't thought to ask in town.
When we turned the car back on, our GPS voice didn't return. We poked at the machine trying to figure out how to make it work and finally gave up and just continued driving…and arguing about whether this was the right way or not. We spun up the mountains, through a tunnel and out to an idyllic flatland that personifies the stereotype of Norway. Our GPS still hadn't returned. Because the car is electric we had to keep an eye on the battery which had at this point sunk down to a 1/2 charge. It was time to turn back and admit that maybe the waffles at the Westeras Farm weren't this way.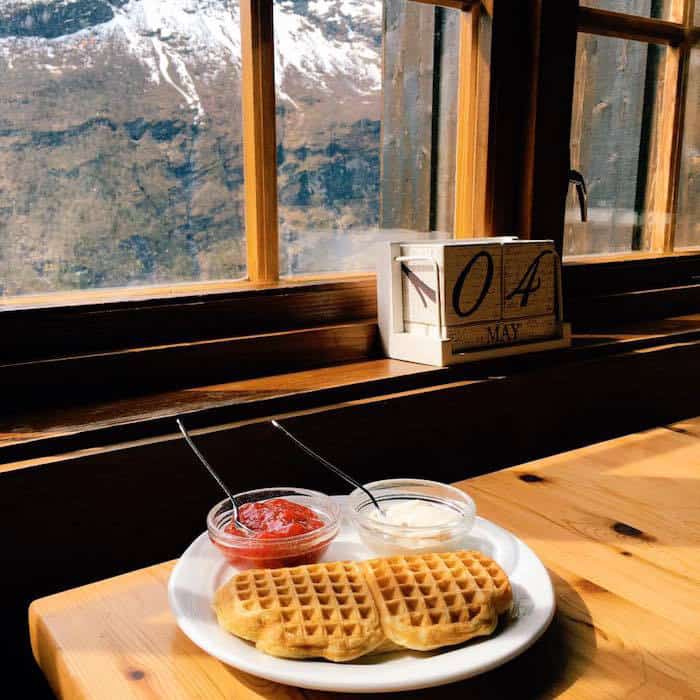 Thankfully much of our return route was downhill, allowing us to coast on our waning battery. As we came back into town we knew the waffles had to be the other way. We stopped at the Norwegian Fjord Center and museum to use the bathroom and see what it was all about. They also had charging stations for the cars so we juiced up. After asking for directions we kept on and after another twenty minutes, some almost off roading on a sheep farm perched on the side of the fjord and an opening and closing of three gates, we had arrived.
I got my waffles and we got a great story from our time in Geiranger.
Was it worth it? Sure was! We highly recommend this way to see Geiranger and the surrounding area. Keep in mind even in May the weather was still quite cold so be prepared – there's no glass on the windows, they were open to the outside.
BOOK IT – eflexi 1600 NOK 3hrs Where you want to go package
Be a part of the MarocMama family!
Do you want access to all things MarocMama? Join our community of readers to get updates on new posts, inside information that won't go on the blog and so much more!
Sound good? Pop your email below and you're in!