This post may contain affiliate links for suggested items you can purchase. You are not charged any additional cost for purchasing via these links, however by utilizing them you help keep this site running!
I've always felt like there's an unspoken language between people. Certain times you come across someone and hope your paths never cross again. Then there are others when you instantly feel a spark, a kinship, a need to know more about who they are what makes them come alive. In life, I've learned that the best stories and relationships come from the moments you are willing to simply say yes, and see where it leads you. 
A few weeks ago I heard about a new, boutique restaurant concept that my friends at Dar Les Cigognes were trying, called Salt-Marrakech. They've always had excellent food and great cooking courses but this was taking things a step further. Guest chefs will rotate in and out of the kitchen for a month (or maybe more) and do their magic for guests wanting something different. I was immediately drawn to the first chef, a Moroccan female chef who has worked at some of the best kitchens in the world. Truth be told it's rare for women to make it into these top kitchens but it's almost unheard of to find a Moroccan woman making it happen. I had to meet her.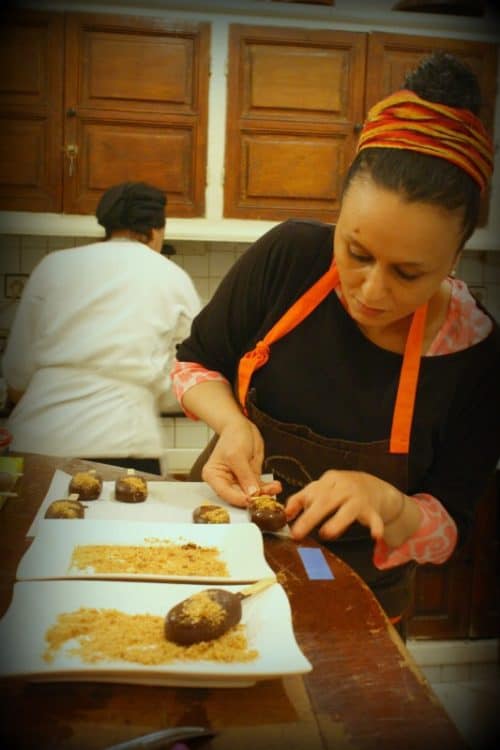 The second we met, I felt the spark. Her fiery personality was front and center and I couldn't wait to know more. After settling into the salon with our coffee's Najat shared her journey as the child of immigrants in San Sebastian, the Basque-land of Spain to the kitchens of Ferran Adria, the French Laundry, and her own passion projects. 
Her family is from the mountains of northern Morocco, her parents were friends who grew up together on different mountains and would meet at the river getting water. Both of her parents had qualities that translated to making her the person she is today. Najat quotes her dad as saying, 
You can be the biggest champion you can be, you have all the doors open in front you. It's your choice. You just have to be a good human, that's the one requirement.
Spend 15 minutes in her kitchen and you'll hear her call her colleagues champions over and over. It's what I first admired about her. She's worked in the best kitchens in the world but she has no attitude or air of superiority. She's Najat. Cooking amazing food, night after night to feed people and put a smile on their face. It's a passion that isn't taught in schools – it's deeper than that. She also patiently helps the staff learn her new to them techniques. Even in the chaos of trying to prep for dinner she slows down, and makes sure to take the moments to teach.
It was on her second night at Salt that we were able to see what the food was all about. My Moroccan mother-in-law accompanied us and I was anxious to see her thoughts on what this would be, as she had never eaten food styled this way. Najat's food is a dance between the flavors of Morocco, and the refined style and creativity of the great chefs of the world. Completely unexpected. Completely delicious. The meal was nine courses, each unique and the perfect portion size. My favorite was the rabbit b'stilla with carrot puree and the desserts that included chbekiya ice cream and homemade Magnum bars. This isn't to say the rest wasn't delicious – it was. But I'm still dreaming of those b'stillas!
Najat will be in Marrakech at Salt until the 15 of March 2016. Seats are extremely limited and reservations are an absolute must. If you're looking for a special meal and you're here until the 15th, do it and know you'll be eating from the true heart of Moroccan cuisine – a chef who loves it and wants you to fall in love as well.
housed at Dar Les Cigognes
Dinner services begins at 8pm
Reservations: book online or call +212 524 38 27 40.
The foodie files is a new series I'll be featuring regularly. I will be interviewing food personalities, chefs, farmers, purveyors and more. Anyone who has a connection to the food we eat is game. You can find more posts like this by typing "foodie files" in the search bar.