[vc_row][vc_column][vc_column_text]Do you ever stop and wonder what you would do if you had the chance to do life over again? Maybe not seriously but in your wildest dreams what would you have done? Would you have picked a different job? Taken that trip of a lifetime you put off? When I was seventeen I had this wild idea that I would become a helicopter pilot. I loved flying and the idea of flying but I put it off because I wasn't very good at math and decided that was just an unrealistic job for me to even consider. But, I still love to fly.
In the Maldives there are only two ways to get around the islands; by boat or by seaplane. We did both. To get between our resorts in the Maldives we found out we'd be taking a seaplane and my first question was, "can I fly it?" Sadly, the answer was no but it was still a fun experience.
At the Male airport there is one runway for international flights and then there's a second "airfield" – on the water. All of the seaplanes arrive and take off from here. Check in is laid back. We just went up to the counter and gave them our names – they were expecting us. Each plane can make multiple stops at different resorts. MarocBaba was nervous about taking this little plane but there was no other option, you can't exactly walk to the resorts!
After taking a plane about the same size in Kenya I was preparing for a bumpy ride. But it was so smooth, even when the pilot flew the plane barefoot! In just 30 minutes we were in the air and to the resort where a boat was waiting to take us the rest of the way. Not only was this an easy way to arrive but it was fun and made me feel special.
We flew on Trans Maldivian Airways. Their staff was professional, their pilots skilled and everything was seamless. Even if the method of flying the plane might seem a little unconventional…
Hey, this is island life after all!
While I normally close my eyes as soon as I sit down in my plane seat I didn't want to miss seeing the islands and ocean below. It truly is beautiful and a great way to see the Maldives from above. Inside the cabin it can be a little loud, and there's no bathrooms on board so prepare yourself ahead of time.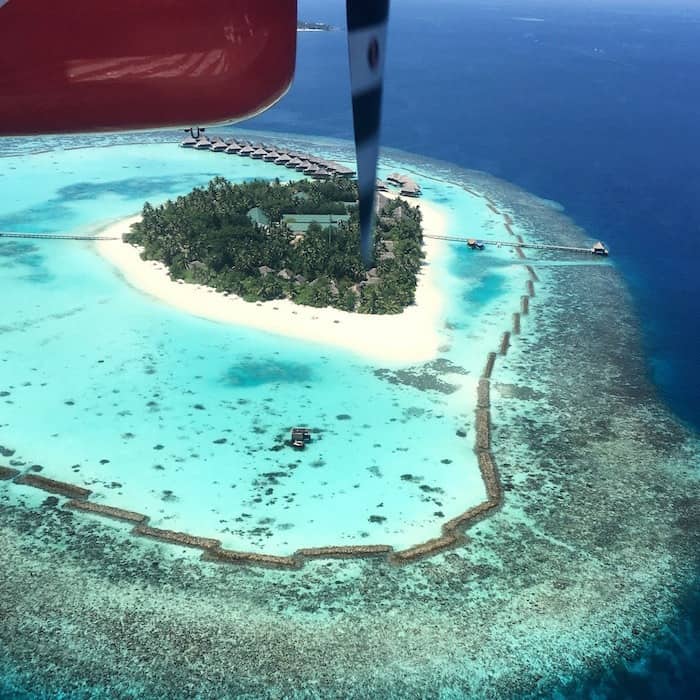 We highly recommend taking a seaplane in the Maldives if it's an option to reach your resort. Have your camera ready to capture the beautiful views below!
[/vc_column_text][/vc_column][/vc_row]
Be a part of the MarocMama family!
Do you want access to all things MarocMama? Join our community of readers to get updates on new posts, inside information that won't go on the blog and so much more!
Sound good? Pop your email below and you're in!