"If you really want to make a friend, go to someone's house and eat with him…the people who give you their food give you their heart." -Cesar Chavez
Cozumel is a vibrant island in the Caribbean Sea, just off the coast of Mexico's Yucatán Peninsula. With an abundance of stunning coral reef communities and balmy, tropical weather, the island is a diver's (or in my case, snorkeler's) paradise! While many visitors spend their days below the water's surface, Cozumel has a rich cultural and culinary history to discover on dry land.
My husband and I love Cozumel for the diving and snorkeling (we've visited the island a few times) but we also live for the adventure of new recipes and cuisine. This time around, we convinced our travel buddies to set their fins and snorkels aside for an afternoon to join us on the Cozumel Chef Food Tour.
Our delightful guide Erin, gave our taste-buds a treat of local specialties – everything from street food to regional Yucatán dishes – while also inviting us to share in the hum of local culture and life. The restaurants we visited were small, hole in the wall establishments, often just small extensions from the owner's home, and the foods we ate were all specialties of the house.
We ate. We drank. We laughed. We learned.
A small quesadilla hut was our first stop, serving up fresh, hot comfort food stuffed with Oaxacan cheese – the authentic cheese for a traditional quesadilla. The corn tortillas were homemade (yes, we were able to watch the creation of these little discs of perfection) and the filling options plentiful. We filled our quesadillas with two local favorites – Huitlacoche and Nopales. Huitlacoche is a black fungus that grows on corn, also known as corn smut, and is a delicacy is many areas of the world. Nopales are the thick, paddle-like leaf portions of the cactus plant. Both were unique, incredibly tasty and off the beaten path!
Cochinita pibil, a traditional Yucatán dish and my favorite of the day, was featured at our second stop. Pork is wrapped in banana leaf, marinated with citrus and annatto and then slow-roasted in the ground overnight. Scoop the juicy meat onto a torta or tortilla, top with pickled onion and you have yourself one delectable, savory bite. If you are a beer drinker, I highly recommend grabbing a cold Montejo from this shop's cooler. A Mexican lager, it is popular along the Yucatán peninsula and is hard to find near the tourist areas of the city.
To give our quickly filling tummies a break, we headed to el mercado (the market) next. Brilliant displays of fresh produce, dried spices, cuts of meat and buckets of fresh, catch of the day, fish filled our senses. As we browsed the offerings at each stall, Erin explained the importance of local ingredients, teaching us the roles each played in creating the flavors of dishes we ate on the tour. We loved the vibe and prices of the market so much we ventured back on our own later in the week. We had to try our hand at making homemade ceviche with Erin's tips and a few fresh fish.
Not far from the market, we stepped into a colorful little cocina economica or neighborhood diner. These restaurants are known for inexpensive, homemade bites and are only open in the afternoon. We munched on fresh salsa & homemade beans and sipped cold Coca-Colas as we waited for the featured soup of the day – Sopa de Lima or chicken lime soup. The limes used in this soup are not the typical tart limes used in the United States, but are actually a bittersweet lime of the Yucatán. Before squeezing our limes, Erin encouraged us to try the soup without so we could truly appreciate the sweet lime flavor once it was added. Amazing what a small slice of fruit can do!
My husband was in foodie heaven at our next stop. Ceviche is one of his all-time, favorite foods and this pescaderia or fish shop, had the best we've ever tried! Ceviche is raw fish cured in citrus juices along with seasonings and spices, and this version was flavorful, tender and not the least bit "fishy". Simply amazing.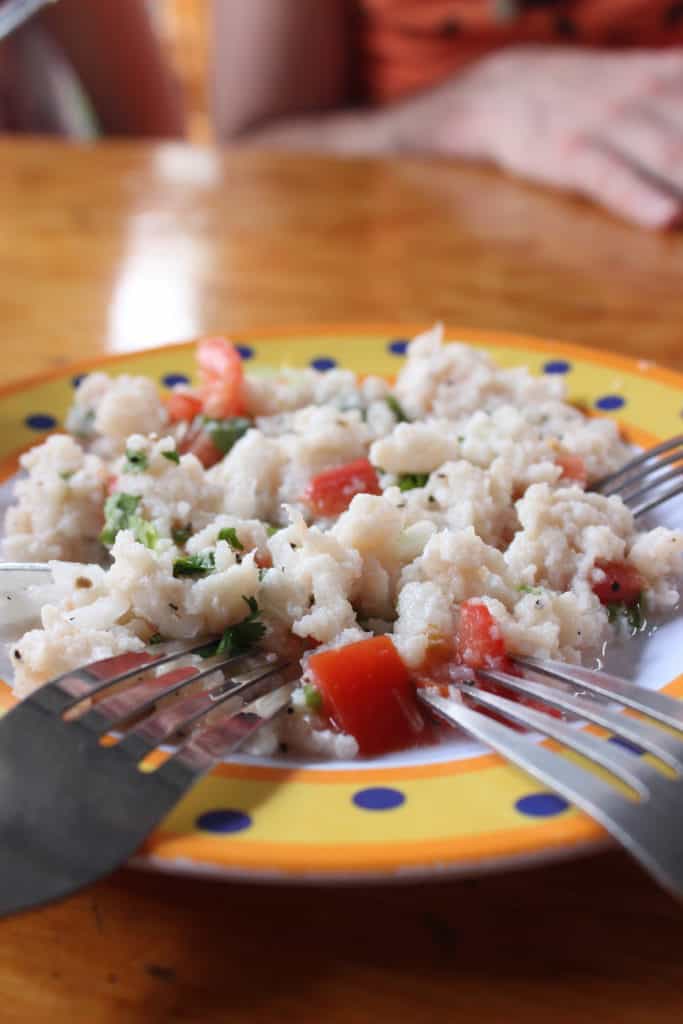 While we enjoyed our ceviche, Erin picked out two fish caught that morning from the chef's cooler, and in no time, we were presented with fried fish platters, heads and all, along with all the necessities for fish tacos. A fish fry will never be the same again. We devoured every piece of meat and even a few fins…they taste like chips!
A few pan dulces or sweet treats from a local Mexican bakery marked our last stop of the tour. We each selected a pastry of choice to take home for mid-afternoon snacking as we were way too full to eat them on the spot. Our treats were so good, we ended up stopping back at this little shop later during the week for another sweet-tooth fix.
Would I recommend setting your fins aside for an afternoon on land with Cozumel Chef Food Tours? Absolutely! The cost includes all food, local beverages (alcoholic and non-alcoholic), transport via taxi for the duration of the tour, and a wonderful, knowledgeable guide.
Treat your taste-buds to some great bites and discover authentic foods of the island from the kitchens of locals.
Read about more of our favorite food tours around the world!
Disclaimer: Cozumel Chef Tours provided me with a complimentary ticket to attend this food tour, as with always all opinions are my own!
Be a part of the MarocMama family!
Do you want access to all things MarocMama? Join our community of readers to get updates on new posts, inside information that won't go on the blog and so much more!
Sound good? Pop your email below and you're in!