We're on week two of summer vacation and so far things are going great. My kids have activities almost daily, we live within a short walking distance from a big swimming pool, and if they get really bored there are always boxes to pack! During the school year I send a lunch a few times a week, but in the summer I've got to make lunch every day, usually it's a meal on the go. I put together a few of their favorites to share with other mom's looking for ideas.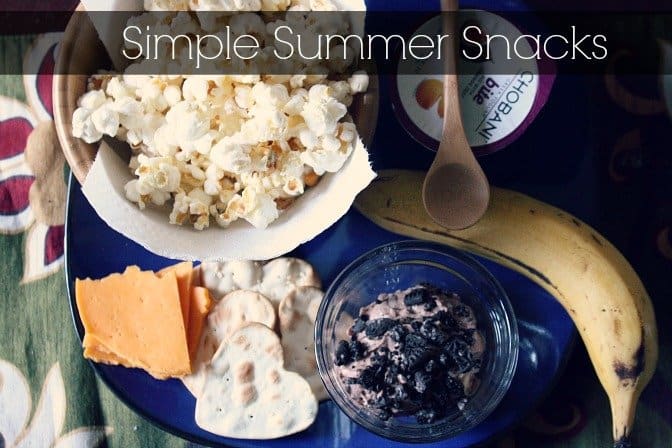 Snack Ideas
air-popped popcorn. You can add all kinds of toppings like cinnamon and sugar or my tandoori spice mix.

fruit – if I know my kids will be outside with their lunches I pop fruit like bananas, grapes, or blueberries in the freezer, they're ready to eat my lunch and not mush.

cheese and crackers

peanut butter (or nut butter) and crackers

pudding!

small yogurts or yogurt drinks

tortilla chips and hummus

olives

vegetable slices with homemade ranch
That cute wooden spoon and wooden bowl came in a box I received participating in the Food Blogger Prop Swap, hosted by Alyssa of www.EverydayMaven.com and Faith of www.AnEdibleMosaic.com, I sent a box of props to Tara of Tara's Multicultural Table and I received a box from Patti of Comfy Cuisine (and a fellow #SundaySupper blogger!) in return. The swap was a lot of fun and it helped me to pare down my prop collection. Deciding what, if anything, I'll take with to Morocco has been a challenge!
My kids love pudding in their lunches but it gets expensive buying those little plastic cups. This is a sometimes treat for them, and I've found in the summer it's a great dessert to have when they've got friends over. It's low-cost and goes a long way. There are many organic pudding mixes that exist, and you can make cheesecake filling but I admit I don't always have to whip that together. So this is my shortcut method
[tasty-recipe id="29864″]
You could make this with other kinds of pudding as well.
What are some of your favorite snacks for summer lunchboxes?
Be a part of the MarocMama family!
Do you want access to all things MarocMama? Join our community of readers to get updates on new posts, inside information that won't go on the blog and so much more!
Sound good? Pop your email below and you're in!