The last port stop on our fjord cruise was to the city of Bergen (or Bryggen). I was really excited to visit here because our photographer friend Monica who lives in Bergen was going to be playing tour guide for the day. Not only would I get the chance to see her but also a locals view of the city. If you're arriving on a cruise ship the port of Bergen is very close to the city center – it's walkable. There's no need to book a shore excursion in Bergen at all! Just exit the ship, follow the signs and take a right turn out of the port. There is plenty of public transportation as well as taxis if you'd rather not walk. What should you do when you visit? Here are a few of our suggestions.
Mount Fløyyen (Fløibbanen) Funicular

Get there early! This is one of the first stops that people who have booked shore excursions from cruise ships make. So if you can beat the rush you'll be set. You can purchase your tickets ahead of time online and skip the line (this is a great idea especially in summer months). The ride is pretty fast and you'll have a better view going down. Once you're on top there are walking trails and a great kids playground, as well as a new rope course and several other activities. Take a walk and get away from the crowds that will be gathering on the viewing deck.
Mount Ulriken
With only a day you may want to choose one or the other (Ulriken or Fløyyen) as they are spread out and will provide essentially the same great view over Bergen. Personally Ulriken was more impressive to me and maybe it should be as the highest mountain in Bergen. You ride a cable car to the top, or you can hike up or down the mountain. On top it's a moonscape – well at least thats's how it looked to me!
Even in early May you can still see there's snow up here and I plopped right down to make a snow angel! In summer the little pools on top fill with water melt off and people do go swimming in them. You can walk the trails up here or eat in the restaurant. Get your tickets ahead of time to skip lines.
Bergen Fish Market
There is a huge indoor/outdoor fish market right on the wharf. Along with the sale of fresh products there is fresh food for sale, to eat on the spot. We didn't end up eating here but it would be a great option. It has been operating since around the year 1200!! If there's one food deal to be found in Norway it's salmon. We ate it every chance that we had. For us it was a treat but in many cases it was the cheapest meat/fish on the menu.
Bergen Wharf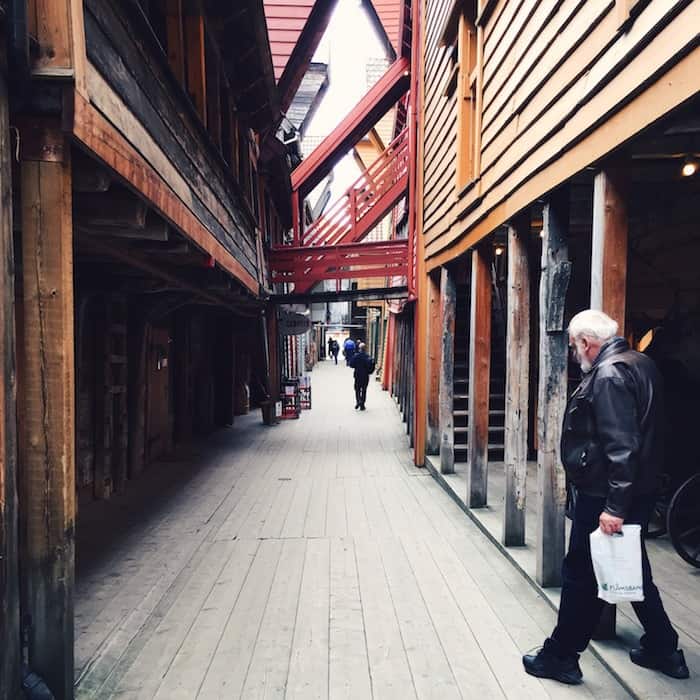 From the 14th to the mid 16th century Bergen played a huge role in the Hanseatic League trading empire. The wooden structures on the wharf are representative of how they have looked throughout time. Given that they are wooden, they also have been prone to fire. The most recent of which was the mid-1950's. It was rebuilt the traditional way and today is a UNESCO world heritage site. Today the buildings are home to artists and other small boutique shops. They largely serve as a tourist attraction though the original charm certainly still remains.
St. John's Church
I grew up in the Lutheran Church, largely formed by Scandinavian immigrants to the US so it was very interesting for me to see a traditional Scandinavian church. What struck me the most was how much it resembled the church I grew up in. The style is in line however with the time immigrants left Norway to the US and likely built churches in the new world. A quick wander through the building here is enough to get a feel for the history of the building.
A Few Things to Keep in Mind
As you can see from these pictures it was cold. Please make sure to bring the right clothing. Norway in May and even in summer months is not as warm as you may think. In Bergen there is a lot of rain, so you also should be prepared by packing rain gear.
You might want to consider the Visit Bergen card to provide transportation around the city during your stay. It's good on all public transportation.
Bergen is the second largest city in Norway and it can be expensive. Take advantage of free activities and experiences to keep your costs down.
We LOVED Bergen and would go back any time. There's no reason you can't build your own shore excursion during your stay and keep the change for another adventure!