It's safe to say that the only meal I've made more than tajine is pasta. But, my love for both has yet to run dry and I'll never turn down the chance to learn more and have fun in a cooking class. While some people never grow tired of shopping, I never grow tired of cooking. Last month I popped into Riad Quara in Marrakech to test drive their cooking course. It's certainly something you should book when you travel to Marrakech!
I had no idea what was on the menu or whether I'd be alone or joined by others but I was up for anything. As luck would have it two French gentlemen who were guests of the riad joined in and the three of us were soon donning aprons, knives in hand, ready to dig in. What made the experience even more fun was our conversations. Our cooking instructor spoke Darija (Moroccan Arabic) and French, while I speak English and Darija, and the French gentlemen French and English. Hayat, who owns the riad often plays English translator but in our case I let her know to go take care of her other guests and I'd get by in Darija.
We each had our own work stations on the beautiful roof space and all of the ingredients were laid out. First up was our tajine. As we were each making individual sizes it came together quickly however, it was clear that the two guys may not have had as much practice in the kitchen as we two ladies. Our instructor was good at waiting until everyone was ready to go on but letting us work ahead when someone fell behind.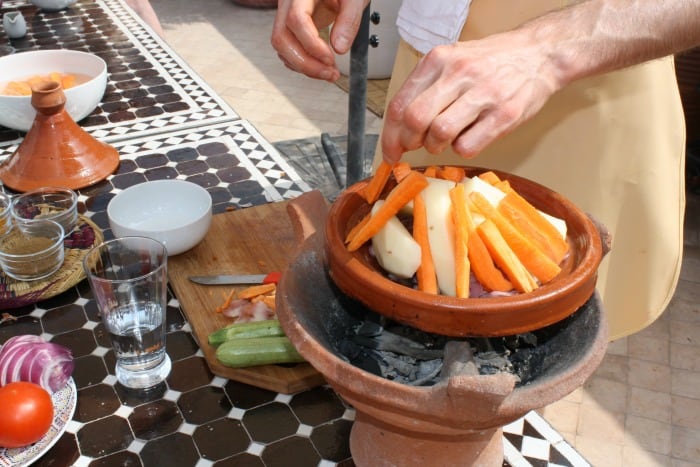 We cooked our tajines the traditional way, over charcoal. As soon as they were beginning to sizzle away it was time to prepare our salads. The traditional and simple salade Marocaine was on the menu. We followed this up with a seasonal dessert of orange rounds with cinnamon, sugar, and mint.
While we waited for the food to finish cooking we had a quick lesson on how Moroccan tea is made. This was the first time I'd actually had someone teaching walk students through all of the steps to traditionally prepare tea. The result is in the taste!
A little over an hour after setting our tajines on the coals they were ready to be eaten. We sat down at the now cleaned up table and were presented our three courses along with fresh bread. Hayat and I showed the guys how to "eat like a Moroccan," though in the end they stuck with forks.
I enjoyed every bite and licked my fingers clean!
To book a stay or a cooking class visit the website or email for more information and rates. 
Riad Quara
Quartier Riad Laarous
Be a part of the MarocMama family!
Do you want access to all things MarocMama? Join our community of readers to get updates on new posts, inside information that won't go on the blog and so much more!
Sound good? Pop your email below and you're in!