[vc_row][vc_column][vc_column_text]Have you heard of the popular book series called The Magic Treehouse? My boys have enjoyed these books for many years and I always add new copies to our collection when I see them. I love how they combine history, geography, and world events into a story that is still enjoyable. When my mom was visiting us this past winter she read to the boys from the volcano book every night. It's set in ancient Pompeii.
So, when I booked our cruise with a stop in Naples I knew we had to actually go and see Pompeii. Some research online led me to a great tour company that provides site tours of the ruins for children. Tours of Pompeii with Lello & Co. offers several tours in southern Italy and had great TripAdvisor reviews which is typically a good sign. I reached out to see if they had any availability during our dates and within 2 days we had everything arranged.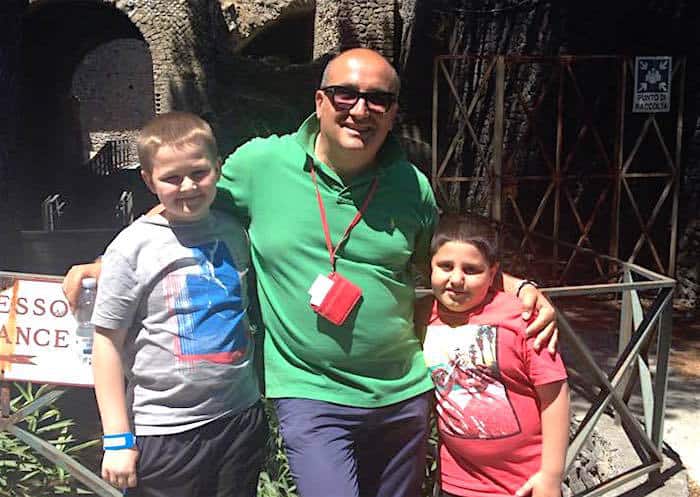 Departing the cruise ship in our first port of Naples we had to make our way to the train station to get to Pompeii. Let's just say the taxi drivers and hawkers outside the port of Naples must be cousins with the hawkers in the streets and souks of Marrakech.
We get it, we really do.
I tried to be very nice. I don't ignore them but politely decline. Finally I give up and am rude when they won't stop and start telling us there's a strike so we won't be able to get a train. Lies. It never fails that when we're in a situation like this we happen upon an Arabic speaker who saves the day. An Egyptian man selling hats comes to our rescue and tells us how to get to the train station. It was simple. Leave the marina and do your best to avoid the taxi men. Directly outside the gates you'll see tram stops. Take #1 or #151 to Statzione Centrale. The cost is 1.50€ for adults and kids are free (we think!)
Once there we buy our tickets to Pompeii with a return. The train continues to Sorrento but does say Pompeii. The price is 4.60€ per adult round-trip, and kids are a bit less. Trains go every 20-25 minutes each way. A short 40 minute ride and we're there early. If you book this tour you will also need to buy tickets at the entrance as they are not included in the tour price.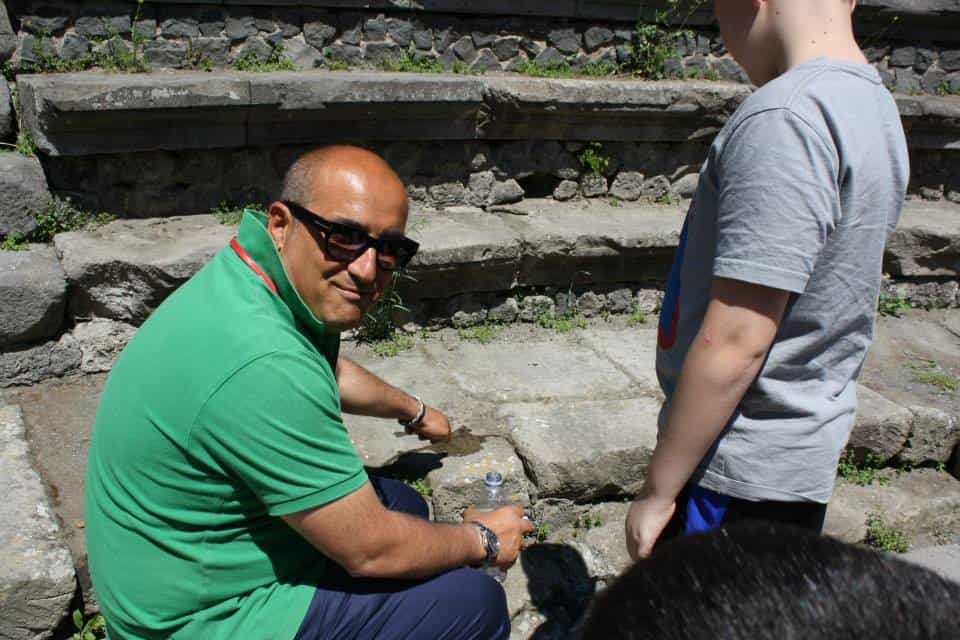 Lello meets us at the appointed time in front of the train station to start the tour. The entrance to Pompeii is no more than 200 meters from the train station making it VERY easy to visit without much hassle. The kids are immediately entranced by his upbeat personality and it's clear to us that this will be all about keeping the kids happy. Exactly what we wanted! Lello explains about the history, geography, and unique features of the city as we enter the ruins. The boys remember some from their book but are listening and actively engaging as well.
We saw the theatre, where the gladiators trained and the main streets of the city. We're brought into a wealthy man's house and see where bakeries and food stalls would have been centuries ago. MarocBaba and I ask some questions but we really try to leave this for the kids. I had heard about the bodies that were entombed in the ash but really wasn't sure how it worked, were they everywhere? Would they be avoided? I knew that K would be very sensitive to this and I wasn't sure how he would react. But, I also had a perhaps morbid curiosity to see them myself.
I am not sure if they are in other areas of the site but they were not near where we went. At the very end we did pass by an area that had several pieces that have been removed from the site in storage. One of them was a body under glass. It was chilling to see, but did not scare the kids. Something interesting we learned was that very few animals were found in the ruins. People stayed and watched, and eventually it was the poisonous gases that suffocated them, and they were then covered with lava and ash. Animals that weren't chained up ran away, having sensed something was wrong.
Our tour lasted roughly two hours which was plenty. The boys were beginning to lose interest and it was very hot. But, they were sad to see Lello go. From a mom and tour business owner's point of view, here's what made this tour great;
The focus and the content was on the kids. Our guide was a parent (to boys) and knew what they would like without me having to make any effort. For the entire time his focus was completely on them and making sure they understood what he was talking about and were having fun.
The tour was upbeat and quick. You could do a leisurely walk around but I'm not sure you'd want to, especially with kids.
It was private. We were the only family so it was completely customized for us.
It was relatable. Lello is an archeologist and had experience working digs in the United States and Morocco. He seamlessly related what our kids knew in the context of the cultures they have lived in, to what they were seeing in Pompeii.
The boys loved Lello. For real, they still talk about him today and this was the highlight of their trip. He had a very natural affinity with them.
When the tour ended it was time to get something to eat and when you're in this part of the world, there's only one thing to get – pizza! There's a restaurant near the train station that served really good pizzas. It's a little more expensive than we would normally go for but it was good and easy. The pizzas were big so if you go, the boys could have split one. We also noticed a lot of local guides eating here, which is always a good sign.
I couldn't more highly recommend this tour. From start to finish it was excellent and if we're ever back in the area again, we'll book another tour with this company.
Disclaimer: We were provided with a complimentary tour however we paid our own admission fees to visit the site. As always, opinions are our own. [/vc_column_text][/vc_column][/vc_row]
Be a part of the MarocMama family!
Do you want access to all things MarocMama? Join our community of readers to get updates on new posts, inside information that won't go on the blog and so much more!
Sound good? Pop your email below and you're in!