Summer is here and that means this mom has to have lunches and snacks ready for two hungry boys (and their dad).  A few months ago I moved from working out of the home to working from home.  I hoped that with this switch I would be able to more involved with my kids during the summer and it would take some stress off of me. MarocBaba is around more in the summer too (he works at night) and is chief activity manager.  But, he isn't really good in the kitchen.  I made this list of lunch and snack ideas for him and realized some of you might also be interested.
Lunch Ideas
Quesadilla on Corn Tortillas (filling ideas, black beans, cheese, turkey pepperoni, chicken in BBQ sauce)
Hamburgers on Gluten Free buns
Mini Pizzas on gluten free bagels or english muffins
Hot Dogs on GF buns
Grilled Cheese and Tomato Soup
Yogurt Parfaits and GF Muffins
 Grilled Kebobs (Chicken, Beef or Veggie)
cubed cheese, meat, veggies on or off a stick
Pasta salad with GF Pasta and lots of veggies and Italian Dressing marinade
Burritos with corn tortillas
Risotto with Veggies
Snack Ideas
any kind of fruit cut up
frozen bananas
frozen grapes
Veggies with Dip (Hummus or Ranch are favorites)
Popsicles
Corn Chips and Salsa
Sugar Free Pudding
Apple slices and peanut butter
Dates stuffed with almond butter
Trail Mix
Dry GF Cereal
Yogurt
Mixed Nuts
String Cheese
Rice Cakes
Turkey Pepperoni Slices and cubed cheese
GF Crackers and Cheese
GF granola bars
Sweets (Cupcakes, brownies, cookies – I limit these but there are some great mixes)
There it is – 40 lunch and snack ideas to make it through the summer! I tried to stick with easy, fast and limited cooking time required.  Most of these items would make great lunch box items for the school year too.
BONUS: Here are some of our favorite brands and products

I'm always on the lookout for new ideas – share some of yours in the comments or leave a link to great recipe posts.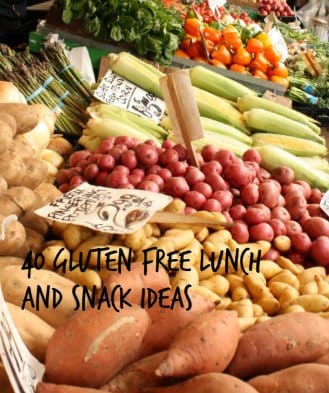 Pin This Post for Later!
Be a part of the MarocMama family!
Do you want the inside info? When you sign up I'll send you bi-weekly personal updates and information.
Get the info that won't be on the blog!