[vc_row][vc_column][vc_column_text]One thing I've realized when traveling around the world is that if your first language is English, chances are pretty solid you don't speak a second or third language. In the United States there's very little support for bilingualism and in many cases it's actually frowned on. But, head to Europe, Africa, or Asia and you're much more likely to find people that speak 2 or more languages fluently. I am working hard to speak Darija and French but I'm realistic and know it's going to take me a long time to master them. What I do know is a smattering of phrases in several different languages. It's completely common for me, or anyone else living here to be exposed to and potentially use 5 or more languages a day. Arabic, English, French, German, Spanish, Tashelheit, you name it. There are guys in the souks who've picked up Chinese, Japanese, and Russian. Mastering none, but having the ability to handle simple conversations and transactions. That's the reality of living in a city that has loads of tourists.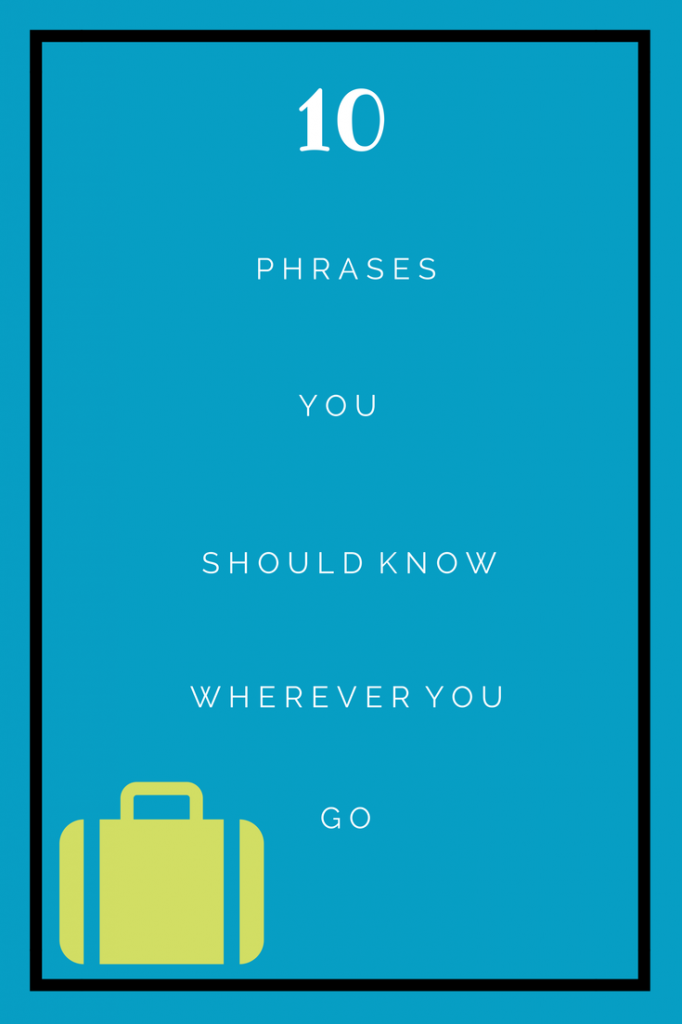 When we went to Spain a few weeks ago I knew that many people, especially outside of big cities, didn't speak English. We also knew we would be near Basque-country where we'd heard Spanish was the 2nd language (making English fall further down the list). With some remnants of high school Spanish between us, my friend and I knew this would be interesting. In some places we were able to easily use English, in others none at all. We mustered up all the vocabulary we could and if we were really at a loss Google Translate offered some help. We drew pictures, and we guessed a lot. I Portugal I found most everyone spoke English, the same in Finland and Norway. It's important to know what the situation will be whenever you're visiting a foreign country so that you can be prepared.
Our travel this year has got me to think about what were the phrases we most needed to know. I stuck with 10 because it's just enough to handle basic conversations and get down to business.
1. Greetings – Hello, Goodbye, Thank You, and You're welcome. These might be the most important phrases you can learn. A little friendliness goes a long way!
2. Do you speak English? You may be able to circumvent the rest of this conversation if the person speaks English. But know how to ask in their language!
3. Where is the… + place – Getting around can be tough. You need to be able to ask where to get somewhere or where something is. This phrase saved us so many headaches!
4. How much is it? – From tickets to food, admission to exhibits to a hotel room you need to know how much something is before you agree to it!
5. Numbers – learning 1-10 in the language you're visiting will aid you in any type of transaction. Of course you can always carry a small notebook to and write down the number or have the other person do the same.
6. The word for any allergies or medical conditions you have. You may not need to memorize this but you should have it written down in the language of the place you're visiting. "I am allergic to…." or "I have xyz," should you need medical help this is vitally important.
7. I need help. Whatever the reason, know how to ask for help and be understood.
8. Can you show me how to get there? This works best when you've got an actual map in hand. You might not get all of their instructions in the language, but if they're showing you which roads to take and what you'll see you'll likely be able to grasp it.
9. I would like…. – This is important for ordering food, buying tickets, really any transaction where you need to indicate what you want.
10. I'm sorry and excuse me – That's a 2 for 1! Knowing how to apologize comes in handy more often than you might think!
What other phrases would you add?
Have a great language and travel story?
Share it below!
[/vc_column_text][/vc_column][/vc_row]