It's that time of year when round-up posts are aplenty.  Not being one to want to be left out, I'm offering you my favorite cookbooks from 2012.  I have a bit of a cookbook problem, just ask my husband.  Whenever a box turns up that looks like it might contain a book I hear, "another book?!?!" I don't just look at cookbooks for the recipes, of course I do cook from them.  But. I also read them.  I see what other people are making, how they're combining ingredients, what their techniques are.  I love the stories that are told along with recipes.  Yes, I read cookbooks. If you're looking for a gift to give a special foodie in your life or maybe you're just looking for a little something for yourself, these five books have a little something for everyone.
Herbivoracious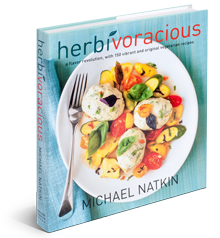 I had the good fortune to meet Michael Natkin at Eat, Write, Retreat early in 2012.  What a delightful person he is! Immediately I was drawn to this book because of the beautiful colors and photographs.  I have made several recipes from the book and have never been disappointed. What impresses me the most about this book is that, while it's vegetarian it doesn't feel lacking.  The recipes are diverse, flavorful and unique.
Coming Home to Sicily
How many Italian cookbooks can possibly be created?  I was skeptical at the thought of picking up "just one more" but am very happy I did.  This cookbook is Sicilian 100%.  The recipes are not what you would find in a traditional Italian food cookbook. Most of the recipes are simple, heavy on the vegetables and easy to make. Part of my family is Sicilian and many recipes reminded me of childhood favorites.  The book is broken into seasons and while you may have to adjust a little as not everyone will be in the same climate regions, it's not much of a stretch.  Italian food lovers will want to add this book to their collection.  If you love Mediterranean food, this is the cookbook for you.
 Jerusalem
It shouldn't come as a big surprise that I'm including this cookbook.  In fact, it's probably my single favorite cookbook this past year.  It's a compelling read and it supports my theory of food diplomacy!  The book is authored by two men, one Jewish and one Muslim who both grew up in Jerusalem within miles of each other.  The recipes in the book represent the city and the food they grew up with.  They do a fantastic job of weaving stories into the food.  Having cooking at least half this book, there isn't a recipe we haven't liked.  It's a great cookbook and a great coffee table book!
 Dahlia Bakery Cookbook
Do you love baking?  Do you consider most baking books repetitive?  If so then you'll love this book.  I am not much of a baker and have had to adapt most all of our baked goods to gluten-free.  But, when I got this cookbook I was intrigued.  The recipes are process oriented, which one can expect with a baking book.  The end results are really great Why I like this book is that it pushes you out of your comfort zone.
Jamie Oliver's Great Britain
I really wasn't sure what I was going to think of this book.  British food doesn't have a great reputation, especially not here in the US.  But I know and love Jamie Oliver's work and was hopeful.  This book is worth it.  It's a great mix of different dishes, with cute illustrations, great pictures and good writing.  The recipes aren't overly complicated and really represent all of Great Britain.  I highly recommend this book.
I hope you enjoyed seeing what a few of my favorite books from this past year were.  If you click on the images, you will go to Amazon where you can pick up a copy of these to make a part of your family.  I'd love to know – what was your favorite cookbook this year? 
Be a part of the MarocMama family!
Sign up for our newsletter today.
You'll get a weekly update + features that won't be on the blog!